Gone but not forgotten!
THE PROLOGUE:
Our exhibition at Tullie House Museum in 2015 began at the start of Carlisle's traditional pageant week in August. The exhibition then ran for 10 weeks. During its run, thousands of people saw a colourful display of pageant memorabilia and were able to learn more about Carlisle's proud tradition of historical pageantry. We have also had very positive feedback about the memories it brought back for many people who took part in, or were there in the audience at the pageants held in 1951 and 1977. Carlisle's pageant week will be run again in August 2016. Sadly, there will be no accompanying pageant exhibition at the museum this time, but this online retrospective is the next best thing! So here we will remember what was a well received display. Rather like a pageant it will be presented in several parts!

Social History Curator, Edwin Rutherford showing the Redress of the Past team how the exhibition looked just before its launch on 21st August 2015.
Introductory panel
Our exhibition began with  some essential background info :


---
THE CARLISLE PAGEANT EXHIBITION, 2015 A RETROSPECTIVE
 PART 1:
THE START OF THE STORY: THE CARLISLE PAGEANT, 1928.
Those who visited the exhibition were often most surprised to learn that there had been another, earlier pageant in 1928 and were amazed at the scale of this huge event. The information panels that were included in the exhibition told the story of the first of Carlisle's pageant adventures.
PANEL 1
The opening panel introduced Carlisle's very first major pageant and outlined some of the facts around it. 4000 people from all walks of life took part in the event which was held in Bitts Park. This may seem like a lot, but it was only the start in Carlisle!

Mark Lindsay of creative-mark, a local graphic design company in Carlisle worked with social history curator, Ed Rutherford and the Redress of the Past  team to bring our ideas together in a visually striking way on these panels. All images of the panels are reproduced on the Redress website with the kind permission of Mark and of Tullie House Museum and Art Gallery Trust.
---
This official's badge from 1928 was just one of the many objects shown at the exhibition. Most of the officials were volunteers. Looking after the thousands of performers and huge crowds who can along to see the pageant could not have been an easy job.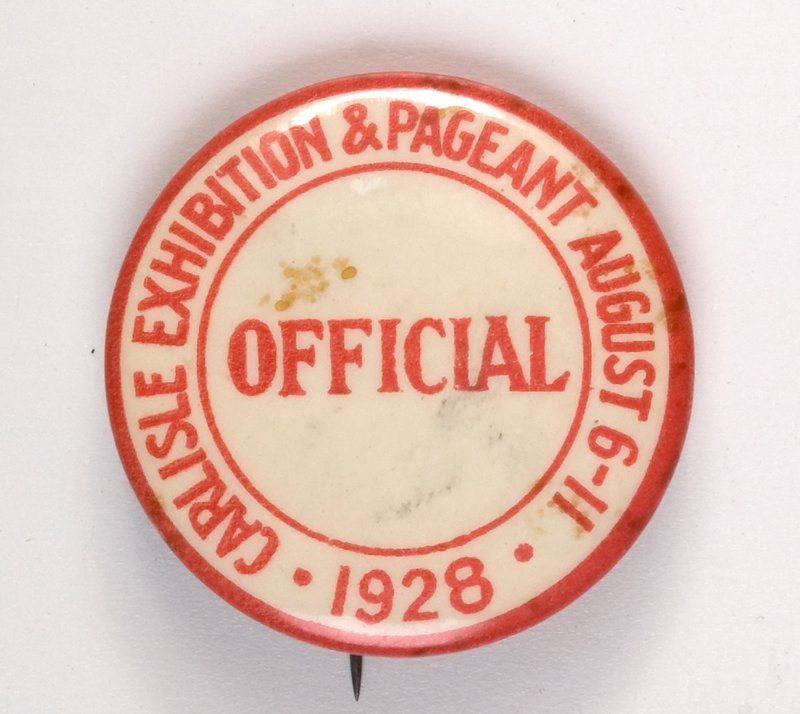 ---
PANEL 2
Our second exhibition panel moved on to describe the wider context in Carlisle that gave rise to the pageant in 1928.


The image seen in this panel comes from a rather lovely pen and ink drawing. This was reproduced on the cover of a special 'Civic Week Supplement' produced by the local press. The supplement carried news of all the goings on in the city during its Civic Week. It was the kind of pull-out section that many Cumbrians kept as a souvenir. For keen local historians, items like this supplement provide an excellent way of finding out what the city was like in the 1920s. Check out the local library or record office for surviving copies.

---
The publicity brochure from 1928 shown below, with a knight on horseback on the cover, was included in the exhibition. Colourful leaflets like this were displayed in public places like railway stations in order to advertise the pageant. People could pick them up to find out more about ticket prices and transport arrangements. Though they were produced in their thousands, most were easily discarded once they had served their purpose, and so have not survived. Local museums like Tullie House protect such objects of interest that are important for local heritage.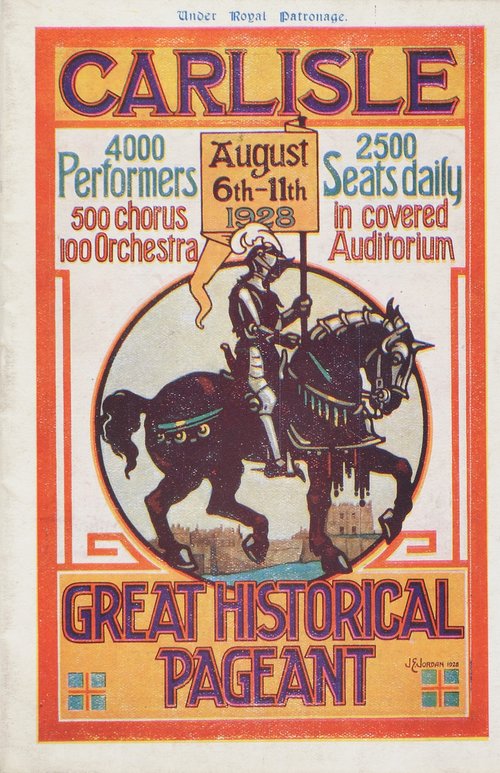 ---
PANEL 3
This exhibition panel continued the story of 1928's pageant and highlighted the tale of the notorious reiver - Kinmont Willie Armstrong! The episode featuring Willie was always popular as it involved some high excitement when Willie made his escape on horseback.

Riding accidents were not uncommon at pageants, fortunately none proved serious in Carlisle. Generally, as the photo of Kinmont Willie in this panel perhaps shows, those who took equestrian roles were already experienced riders. Despite having his hands tied behind him, the actor playing Willie looks fairly relaxed!

---
Some pageant ephemera needs careful conservation and so is rarely seen. The page below from a publicity leaflet and numerous other items like this are cared for at Tullie House, and in many other local museums. Visitors to the pageant exhibition had the opportunity to look at some of these rare articles. As you can see, cheap rail tickets were an incentive to people to have a day out in Carlisle. The city's position as an important railway centre in the north probably helped encourage many spectators. Then, as now, all trains going north and south stopped at Carlisle!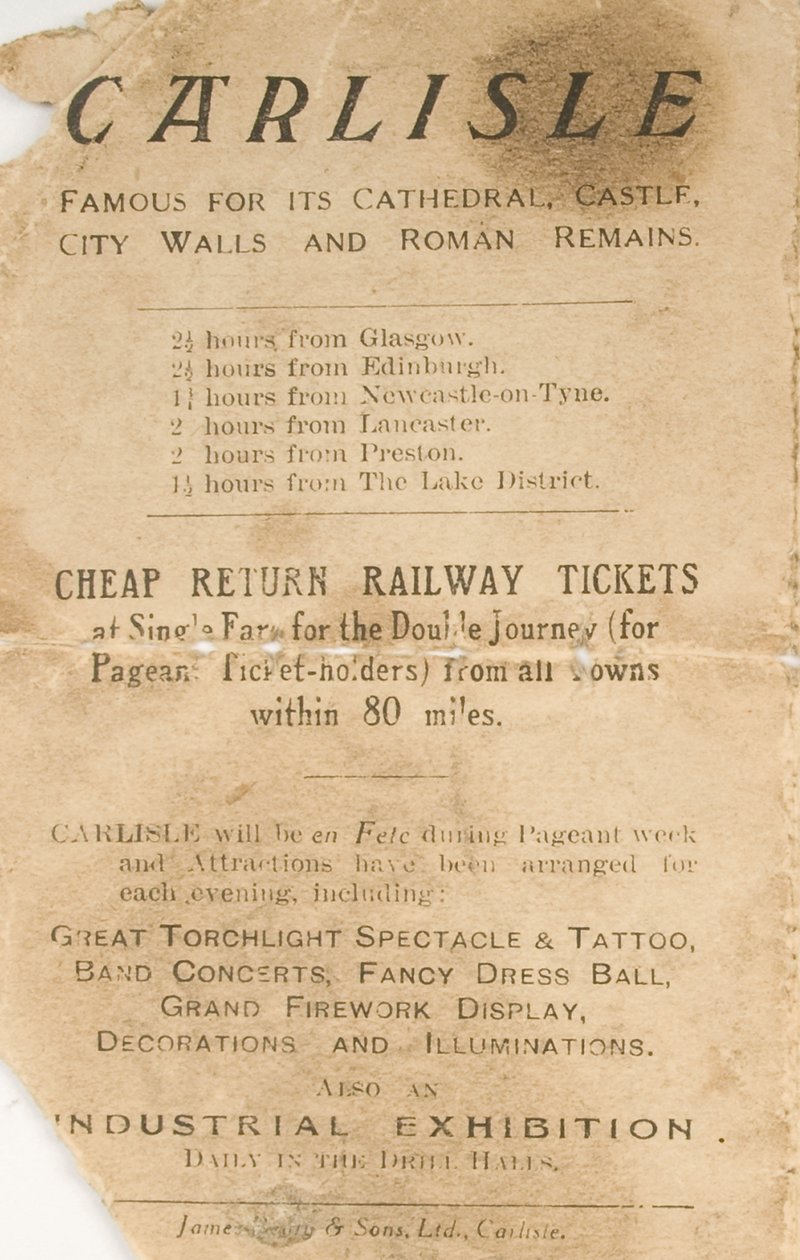 As you can see this publicity flyer was printed by a local firm in Carlisle. Pageant organisers worked with local businesses; when a pageant came to town, this was a help to the local economy in many such hidden ways
---
PANEL 4
Our fourth exhibition panel is the last to focus on the 1928 pageant. It tells the story of a very important person in any pageant - the Pageant Master! 
Frank Lascelles was hugely influential as a pageant master. Possibly more than anyone else, he was responsible for the ever-larger spectacles that became a hallmark of pageants. As you can read on the panel, after an illustrious career he died a rather sad and lonely death, and until recently, his career as a pageant master perhaps did not receive the attention it deserved. However, historians are now rediscovering Lascelles. Work done for the exhibition in Carlisle has looked for the first time at his influence on a Border pageant.
---
Civic weeks and pageants produced a great many souvenirs. The 1928 pageant in Carlisle was no exception.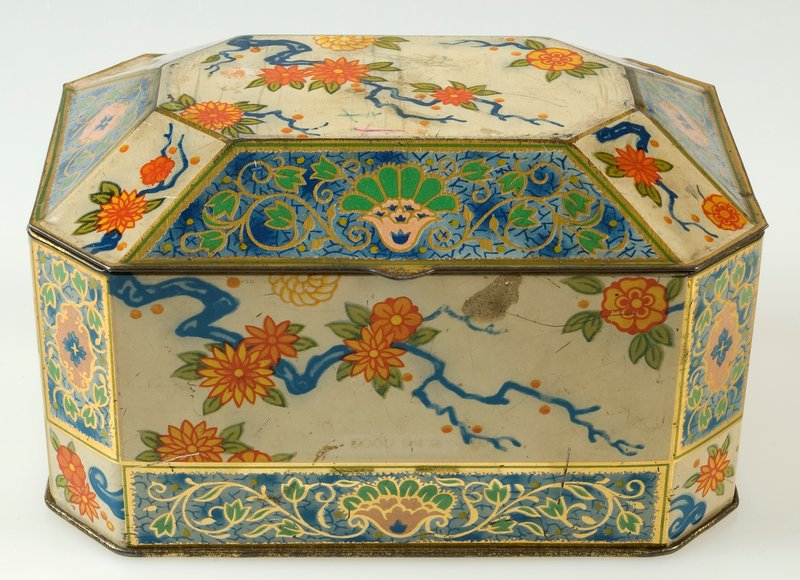 The lovely enameled tin seen here was made in Carlisle and was likely sold at the civic week's industrial display. This surviving example, owned by Tullie House Museum was on show in our pageant exhibition. Originally, this tin would have held tea.

Many of the great civic pageants held in Britain were thought of as a once in a generation event - they took up so much energy! This proved to be the case in Carlisle. The turmoil caused by World War 2 also influenced the fact that another pageant was not held for many years, however, pageantry did come around again. Part 2 of our exhibition retrospective explores Carlisle's next pageant adventure.
---
THE CARLISLE PAGEANT EXHIBITION, 2015, A RETROSPECTIVE.
PART 2: A FESTIVAL PAGEANT, 1951.
Among those who visited the exhibition in  summer 2015, were quite a few folk who actually took part in the pageant held in Carlisle in 1951. This was Carlisle's second big pageant and formed one of the city's contributions to the Festival of Britain.  Our exhibition explored this pageant which was even bigger and more successful than that held in 1928.
PANEL 5
Our second section includes the panels which covered the pageant held in 1951. This was a bumper year for pageants! But as you will see in the descriptions provided by the panels, Carlisle's pageant was once again large and successful.

The Redress of the Past team spoke with a number of people who took part in the 1951 pageant. You can here some of their voices here: Carlisle Pageanteers Remember
---
PANEL 6
In 1951, Britain was only beginning to emerge from the effects of war and the austerity which followed, but as panel 6 explains, in this year towns and cities across the land entered into festival spirit.

The famous Festival of Britain logo also featured on many of the pageant souvenirs.
---
During much of the twentieth century both tins and biscuits were manufactured in factories in Carlisle  - a great combination! This one originally held biscuits and is quite a famous example of a pageant souvenir produced for a well known brand - Carr's.
Judging by how often this colourful tin appears on eBay, many people once had it in use in their homes! Visitors could see this example at the exhibition; it may have brought back memories for many people.
---
PANEL 7
Royalty often came along to pageants, but in 1951, with so many pageants taking place, there must have been stiff competition to attract a royal visitor. Carlisle planned ahead and had very slick organisation. The city came up trumps when Princess Margaret agreed to visit.  An image of her walkabout on English Street can be seen in this panel.

You can see the Princess doing a royal walkabout in the centre of Carlisle on this panel. Doesn't look her outfit depended on clothing coupons!
---
A little bit of in-house history was on show when this programme was displayed at the pageant exhibition at Tullie House...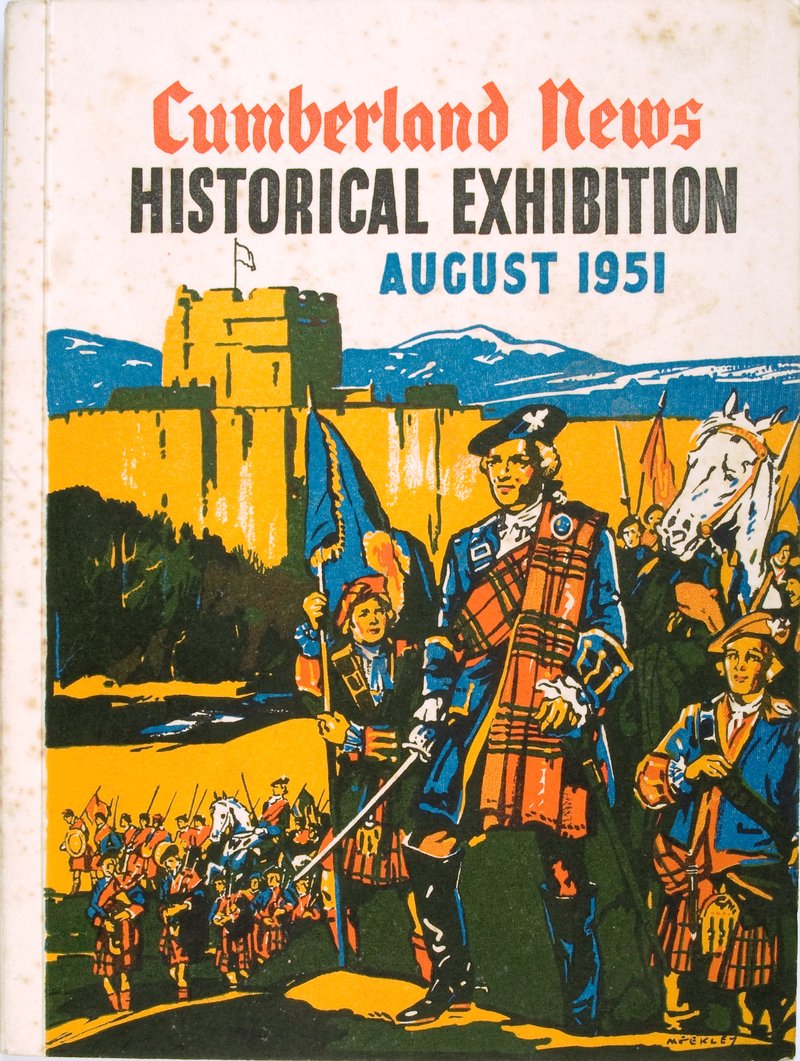 Tullie House was a part of pageant week in 1951 when it hosted a special historical exhibition. The programme accompanying this was printed by the local press. This is quite a rare piece of ephemera now but naturally Tullie House have held on to a copy! The cover suggests that Jacobite history featured heavily in the exhibition.

---
PANEL  8
The Jacobites featured in all of Carlisle's pageants, and were one of the highlights in 1951 when young men from Carlisle Grammar School's Scout troop played the parts of the Bonnie Prince and his army.

---
The image used in Panel 8 was donated to the Redress of the Past project for use in the exhibition and for our research. Ken Ogilvie (Bonnie Prince Charlie in the pageant) gave the project access to many of his personal collection of pageant memorabilia, here is a further example of a photo taken in 1951 where Ken cuts quite a dash!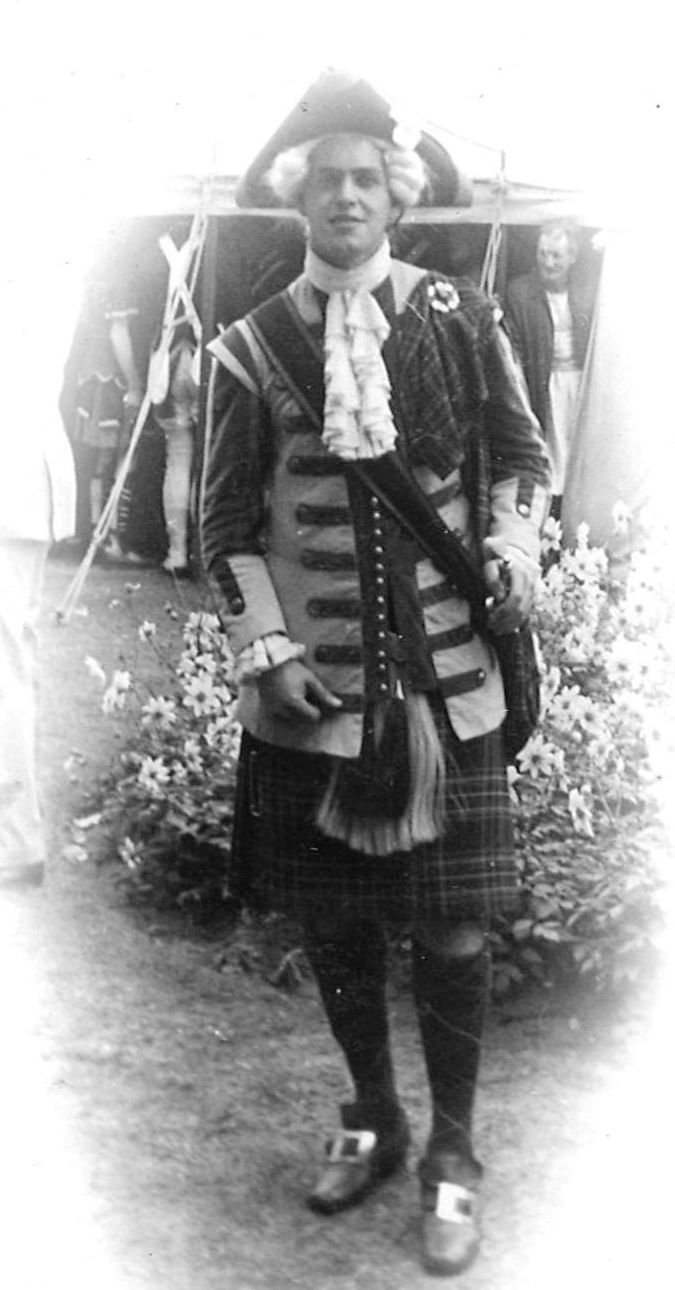 As one of the leading characters within the pageant Ken had to get used to having his picture taken!

---
Unfortunately, this receipt for a pageant costume did not make it into our exhibition, but we are able to show it now. Most costumes used in pageants were made by the performers themselves or by volunteer seamstresses. Some special outfits for those in big roles had to be hired from specialist costumiers. In 1951, Ken's costume was hired, as you can see it was quite pricey at 7/6 for the week!  At the end of pageant week they had to go back (hopefully in one piece!) to the hire company.

---
You can read more about the pageant in 1951 by clicking here: Little Known Facts and listen to some of the participants in the pageant in 1951 here: Pageanteers recall 1951

---
THE CARLISLE PAGEANT EXHIBITION, 2015, A RETROSPECTIVE.
PART 3: The People's Pageant
Part 3 of our exhibition retrospective explores Carlisle's next big pageant, held in the 1970s when a lot had changed.
PANEL 9


The image on this panel shows performers in the 1977 pageant offstage and relaxing! Of note are their costumes. These were the brainchild of designer Carrie McIntyre who worked tirelessly to produce colourful outfits for thousands of actors. She had a lot of help of course. Church groups and as well as individuals all pitched in - showing true pageant spirit. This photo also reveals the fun involved with being  part of a pageant - they are all smiling! You can hear some reminiscences donated by pageant performers and organisers by going to this page: Memories of getting involved in the 1977 pageant 
---
PANEL 10
While the pageants in 1928 and 1951 had, for the most part, used the same script, that held in 1977 was completely overhauled and new episodes were presented. These changes attempted to make history more relevant to a modern audience and concentrated on the struggles of ordinary Carlisle citizens as we can see in this panel.

If you look closely at the image in this panel you will see that some of the soldiers were played by women. A shortage of male actors was often a problem for pageants. The reason usually given was that long rehearsals over many weeks and the amount of commitment needed, sometimes conflicted with men's employment. By 1977 however, women were also well represented in paid employment so clearly this excuse does not tell the whole story. These young women seem perfectly comfortable in their roles and were flying the flag for greater gender equality!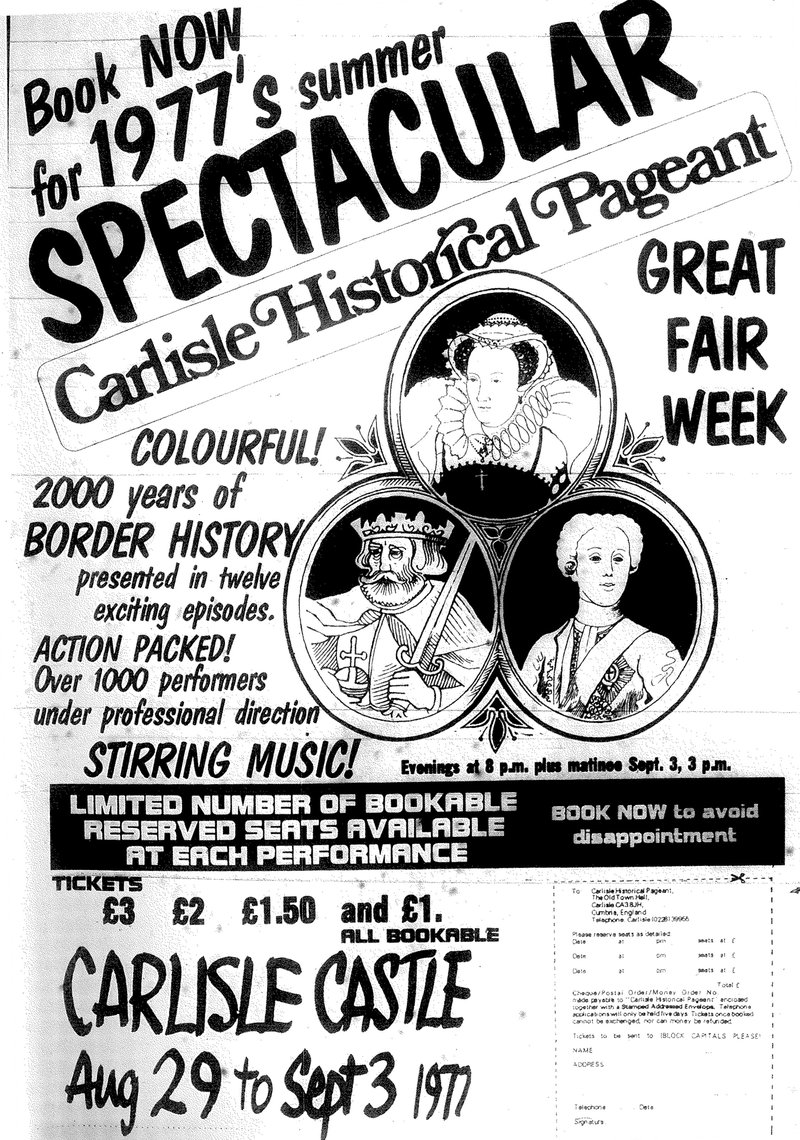 An advertisement and booking form for the pageant. No online booking in 1977!
---
PANEL 11
It wasn't only the script that was updated. The music was also changed to be  better suited to a modern production. From almost the beginning of their development, pageants had embraced new technology whenever feasible. Panel 11 explains how the most up-to-date audio/visual innovations were employed by pageant master - David Clarke. 

---
As we have seen, pageants involved an enormous effort on the part of individuals and all kinds of community organizations. Aside from the pageant master who received a fee for his or her work, many of the professionals involved gave their expertise voluntarily and without charge. Carrie McIntyre was one such  expert. Her beautiful and innovative costume designs played a big part in the success of the pageant and in these images we see where many of her ideas began.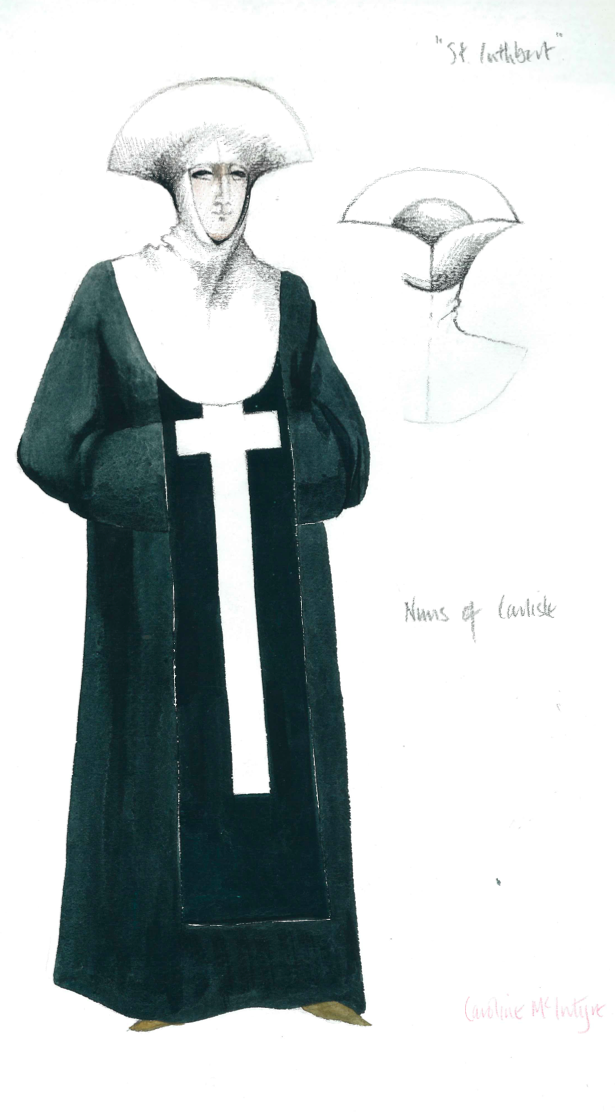 We are extremely grateful to Carrie McIntyre for sharing images of her original costume illustrations with the Redress of the Past project. Drawings such as this demonstrate the talent at large in Carlisle and on which the success of the pageant depended. Carrie was responsible not just for costume design but also for sourcing much of the fabric used  and organizing volunteer costume-makers. She also had to be careful with the budget for this important aspect of the pageant. She did an outstanding job!  Some surviving costumes from the pageant were on display at out exhibition.
---
PANEL 12
The King's Own Border Regiment played a big part in all three of Carlisle's pageants; but in 1977,the history of the regiment itself was put on display for the first time. This history formed the final episode in the pageant and by all accounts was a spectacular military display: a short description of the episode is covered in panel 12.

While historical pageants have never entirely disappeared, they did become a lot less popular from the late 1960s onward. To some extent, Carlisle bucked this trend with its successful, large-scale pageant in 1977. However, this was to be the third and final

 theatrical pageant held in Carlisle. Even so, its memory lives on and this exhibition celebrated such memories and, we hope, showed the important part played by such events in educating and entertaining many thousands of people about the fascinating history of this unique Border city.  
Over 6000 visitors saw the pageant exhibition in Tullie House!
---
THE CARLISLE PAGEANT EXHIBITION, 2015, A RETROSPECTIVE.
Pageantry in Carlisle today
PANEL 13
We know that many visitors  to the pageant exhibition had their personal memories stirred  by what they saw. For others, who knew nothing of this aspect of Carlisle's past, some present trends in the city may take on a new significance.

Perhaps because of memories at large in Carlisle of its strong pageant tradition. A pageant festival was reintroduced in 2013. The historical parade that takes place during Carlisle's traditional fair in August is not the same type of pageant that was seen in 1928, 1951, and 1977, but as with the pageants of yesteryear, this annual parade depends on the hard work and enthusiasm of volunteers and those who take part in it seem to really enjoy and value the experience.

---
This image of the Carlisle pageant parade was taken in 2015 in Scotch Street. As we see, Mary Queen of Scots appeared as a giant puppet and the Romans invaded Carlisle yet again! 
---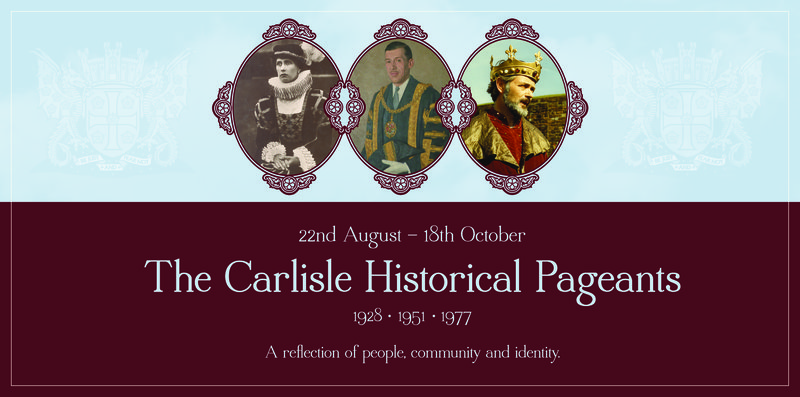 Members of the Redress of the Past team would like to thank staff at Tullie House Museum, in particular, their former Social History curator - Edwin Rutherford - and all of the people who came along to the exhibition's launch, including the Mayor of Carlisle - Steve Layden.