The Scottish Historical Pageant 1927
In July 1927, the Scottish Historical Pageant was held in the grounds of Craigmillar Castle in Edinburgh. With nearly 4000 performers, 200 horses and a grandstand capacity of 10,000 – and a total audience capacity, across the four performances, of 50,000 – this was a major historical pageant, which was attended by King George V and Queen Mary. 'The Cause Behind the Pageant' was to raise money for the Scottish Branch of the Queen Victoria Jubilee Institute for Nurses, to both extend its sphere of action, but also to 'meet its urgent, clamant calls'. The Scottish Historical Pageant was hugely successful, both in terms of the audience response and the money that it made for its cause, from both the pageant and a number of associated events that took place around it. During the weekend preceding the pageant, a Colossal Fireworks Display was put on at Inverleith, Edinburgh (in Stewart's College Sports Field). Advertisements promised the latest devices and set pieces: huge rockets, star shells, Kohinoor shells, giant plumes, devils' mines and rainbow clouds and invited the audience to 'see the great zeppelin attack'. Many other attractions were also listed, including cock fighting, acrobats, scooter racing, a mammoth fire wheel (30 feet by 30 feet), aerial firework jugglery, and portraits of their majesties the King and Queen and HRH the Prince of Wales. Staged by Messrs C.T. Brock & Co of Crystal Palace Firework fame, the two firework displays resulted in £740 profit for the pageant committee. On the evening of the first pageant, a Gigantic Pageant Ball and Carnival was held in Marine Gardens Ballroom, in the seaside resort of Portobello, Edinburgh. A special orchestra was engaged, attractions 'of a unique nature' arranged, and pageant performers were requested to wear their costumes.

Craigmillar Castle in Edinburgh. Taken by: Stuart Yeates (2004). Flickr, https://www.flickr.com/photos/stuartyeates/45920298/ Creative Commons License


The Pageant Master, Sir Frank Benson (1858-1939), was no stranger to theatre or to pageantry. A famous actor and theatre manager, he was well-known in British theatre circles, including being responsible for a total of twenty-six of the annual Shakespeare Festivals at Stratford. He had also been involved in a number of pageants, including the Winchester Pageant (1908) and, with Frank Lascelles, the Pageant of Empire (1924), which was organised to accompany the British Empire Exhibition. An enormous team of organisers, writers, and committee members covering a broad range of roles and responsibilities ably assisted him. These included an Honorary Organiser, Walter G. Montgomery, and an Honorary Historical Adviser, Professor Robert K. Hannay. Hannay became the Fraser Professor of Scottish History and Palaeography at Edinburgh University in 1919 and, from 1930, was appointed the Historiographer Royal of Scotland. Like many historical pageants, attention was paid to historical accuracy, and historians were often drafted in to write, assist or advise on the writing and staging of pageants.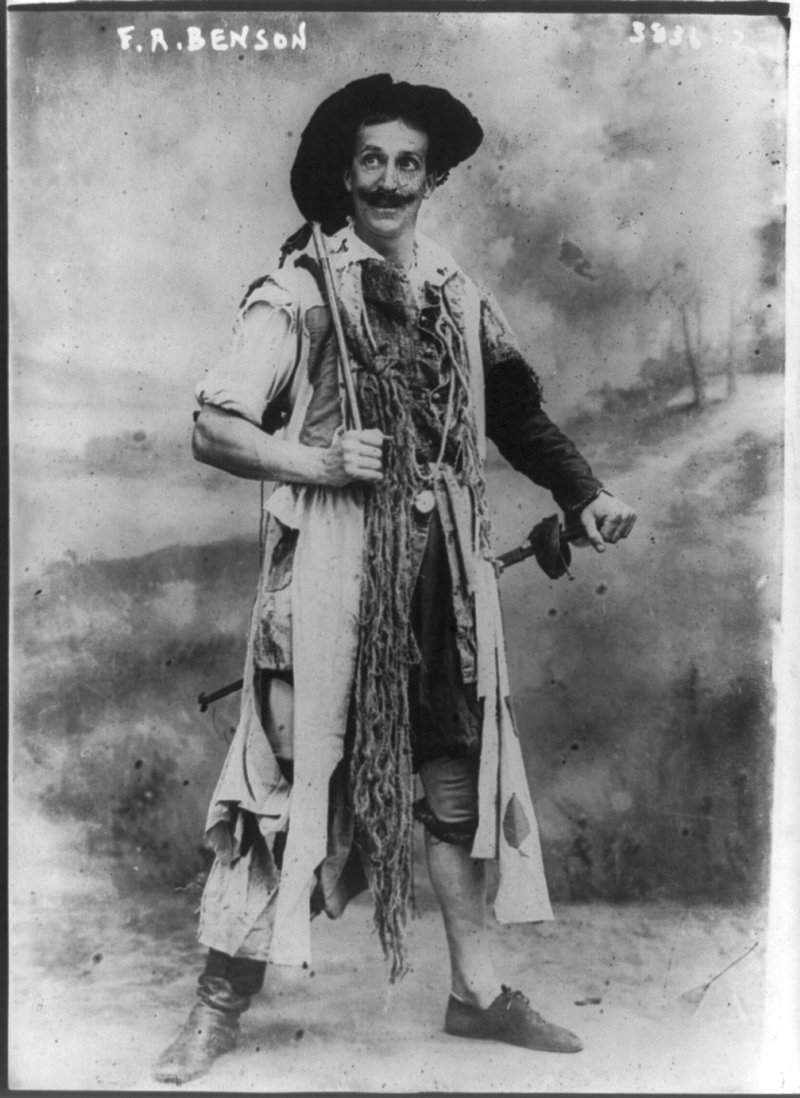 Frank Benson. Copyright Bain News Service, N.Y.C. This image is available for public use from the United States Library of Congress's Prints and Photographs division under the digital ID cph.3b31672. 

 In the Scottish Historical Pageant, attention was focused on a fairly narrow (for pageants) chronological period, with its five episodes covering the years 1503 to 1566. This is a period in which Scotland's fortunes rose and fell, and broader events had major impacts on Scotland, as well as on the relationship between the crowns. The first episode began with King James IV of Scotland meeting his English bride, Princess of the Royal House of England, Margaret Tudor, for the first time. This was set against background scenes of performers playing football and shinty, and performing country dances, before the marriage ceremony took place and the newly weds rode off to Holyrood. To prepare the audience for the clouds that were gathering in the ten years between episodes one and two, an interlude showed 'Hardy Scots' fitting armour 'in case' the need arose; there were also displays of jumping, wrestling, weight putting, hammer throwing, swordmanship, and finishing with a Sword Dance. War is the focus of episode two, which is set in August 1513, after James IV has ruled Scotland for 10 'prosperous years'. King Henry VIII is waging war in France, with which Scotland has an alliance – a call to war goes out after two English navy ships attack a Scottish ship. The army assembles with King James IV at its head and the newly completed Red Lion of Scotland is unfolded. The King is warned repeatedly as he departs for war, but leaves anyway (the Queen and her Ladies ride to Linlithgow Palace). In the following episode, the audience hears of the victories won by the Scottish army throughout August 1513 – until disaster strikes at the Battle of Flodden on 9 September. The news that King James IV and 10,000 Scottish men are dead is relayed and a call to arms to Edinburgh is made by George Touris, the President of the Council. This episode ends with monks praying, people marching to Edinburgh to take up arms, the lament of the pipes, and 'the voices of a stricken people' singing 'The Flow'rs o' the Forest'. In episode four, fifty-two years have passed, Mary Queen of Scots has been on the throne for three years, and she has decided to choose herself a husband: Lord Darnley, son of the Earl of Lennox and great-grandson of Henry VIII of England. He is portrayed as a divisive and disliked character – 'King of Scotland he may be, but never King of Scots!' – and the episode makes various references to plotting and jealousy. This episode ends by conveying to the audience a flavour of the difficulties Mary Queen of Scots is setting herself up for in her choice of husband. The centrepiece of the final episode was the birth of Mary's son in June. This was set against discussions about her divorce from Lord Darnley, with the Queen expressing concern about how this might prejudice her son's right to succeed the thrones (it was resolved that he possessed this right).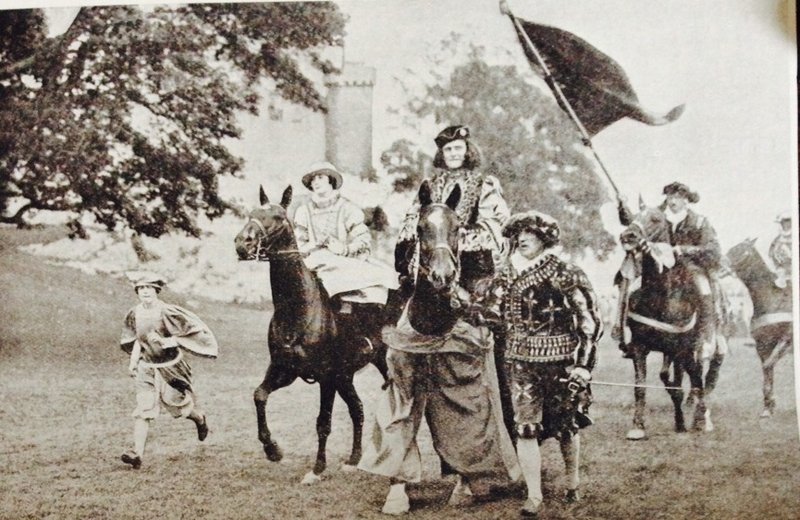 The Marquess of Queensbury (Francis Douglas) as James IV. Taken from: F. A. McKenzie, 'The Past re-created in Pageantry' in Wonderful Britain. Its Highways, Byways and Historic Places (Vol 2) (1925). 


The Countess of Stair (Violet Evelyn Harford) as Mary Queen of Scots. Taken from: F. A. McKenzie, 'The Past re-created in Pageantry' in Wonderful Britain. Its Highways, Byways and Historic Places (Vol 2) (1925). 

The pageant ended with the resounding words:
And now the Thistle and the Rose grow side by side. Each have their sweetness; but back yet ruthless ones! Touch not! For sharp are the thorns they bear in their defence. As their sweetness grows so grows their strength.
The clarion call peals loud, "St George for Merrie England!" and from every utmost corner of the world comes a sterner answer, as befits so stern a race, "Scotland, aye! Scotland!"

The front cover of the limited edition souvenir. From: Scottish Historical Pageant at Craigmillar, 14th to 16th July, 1927. Songs of the Pageant. Souvenir edition. (Edinburgh, 1927). By permission of the British Library.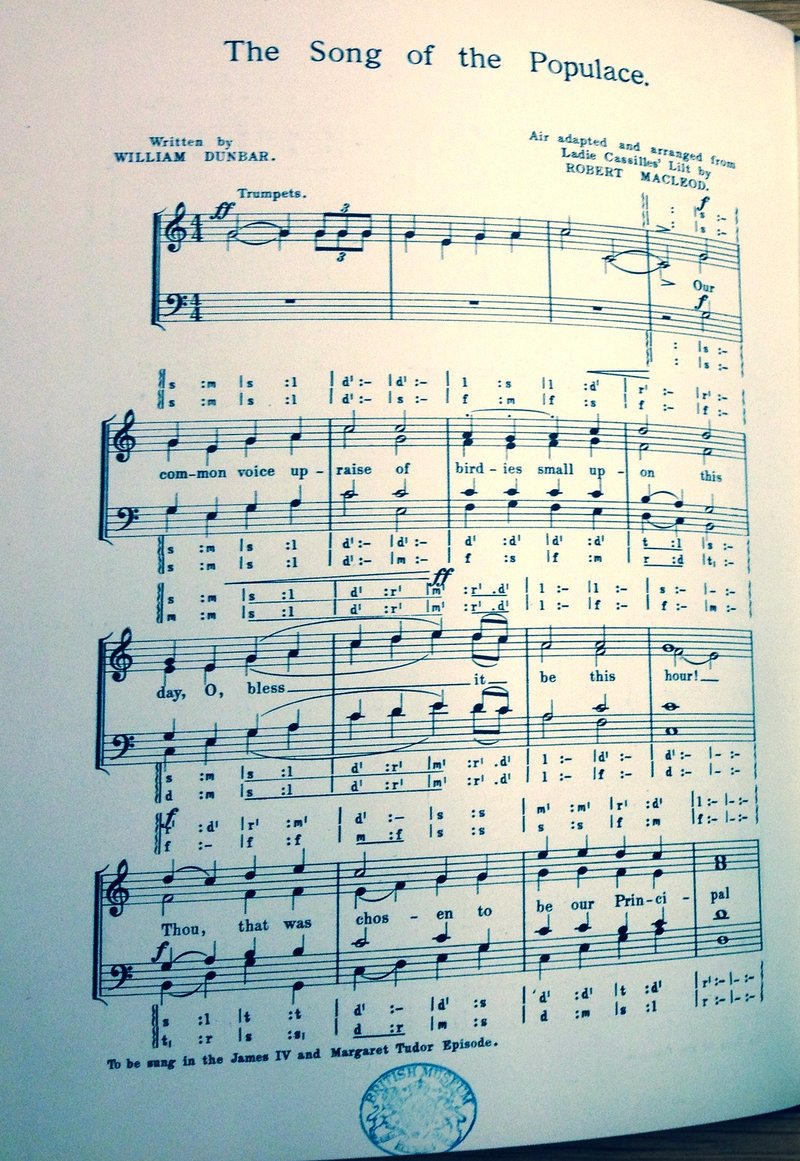 From: Scottish Historical Pageant at Craigmillar, 14th to 16th July, 1927. Songs of the Pageant. Souvenir edition. (Edinburgh, 1927). By permission of the British Library.

During the final meeting of the General Committee in December 1927, it was announced to great applause that the pageant had made a profit of £6400, all of which was donated to the Queen Victoria Jubilee Institute for Nurses. The organisers noted that they had started out with the idea of having 800 performers and had ended up with 3700, in a pageant that had sold out all but the first performance. There had been unsold tickets to value of £1450 during the first day of the pageant, which the organisers put down to a combination of bad weather in run up and the idea circulating that they were doing something that was 'far too big for them' – as they triumphantly noted, the fact that there were no tickets to be got after the first performance sorted this out! It was also noted during this meeting that the Honorary Organiser, Walter G. Montgomery, had been appointed to a similar position for the Glasgow Pageant to take place in summer 1928. More on this next month…