Like every other four year old, I was obsessed tractors. As a twenty-seven years old, I still am (privately). The best tractor, as I'm sure you will know, is the red Massey-Ferguson.
Sadly (or, from another perspective, fortunately) hay fever prevented this relationship from every truly blossoming although my cousin's farm has a thoroughly respectable collection. One event I'm sure I would have loved to go to as a small child was the Pageant of Historic Tractors at Stocksfield Farm in Northumberland in June 1999.
The person behind this Pageant was John Moffitt, CBE, the farmer and nationally-renowned cattle-breeder. Moffitt was the owner of the Hunday Collection, one of the UK's largest collections of antique tractors which opened to the public in 1979 and contained over 200 tractors and 200 engines. Moffitt's idea was to have three actors dressed pioneers of tractors narrating their life stories and introducing their inventions from the Hunday collection. The figures were Dan Albone (1860-1906), who built the first lightweight tractor (played by his descendant Alex Albone); Henry Ford (1863-1947), whose forays into tractors were almost as important as his motor cars; and Harry Ferguson, a Northern Irish mechanic and racing driver whose TE20 tractor was one of the most successful ever made with 500,000 built in Coventry.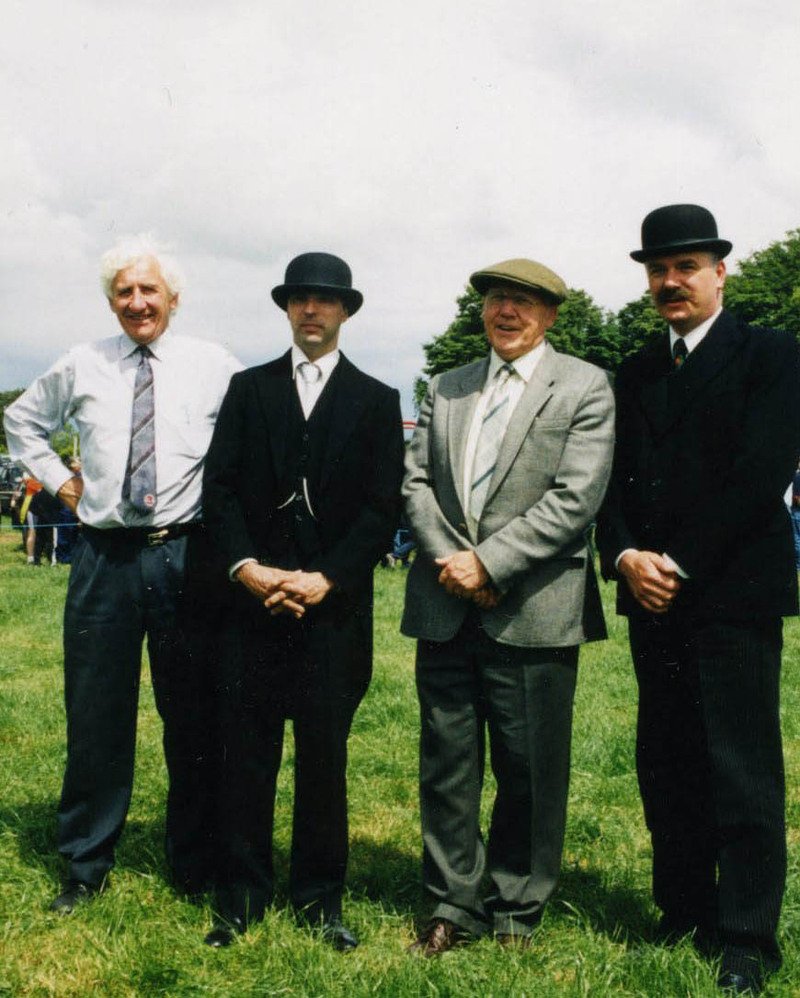 (John Moffitt with Dan Albone, Henry Ford and Harry Ferguson)
The Pageant was a great success with the editor of Tractor and Machinery labelling it as 'one of the best events staged so far in 1999'. The Pageant was held alongside an exhibition of the Hunday Collection including cultivators, harrows and discs, manure loaders and spreaders, ploughs, potato planting and lifting equipment, mowers and hay equipment, trailers and transport boxes, with many of the tractors driven around. The highlight of the collection was the 1902 Ivel Tractor, the world's oldest petrol driven tractor. In 2004 John Moffitt drove it 106 miles around Northumberland in aid of local hospices – no mean feat considering the tractor's top speed was 5mph and got two miles to the gallon!

 The Pageant was a celebration of three working class inventors who lacked formal education who, between them, pioneered a vehicle which has vastly increased agricultural production and has helped feed people the world over.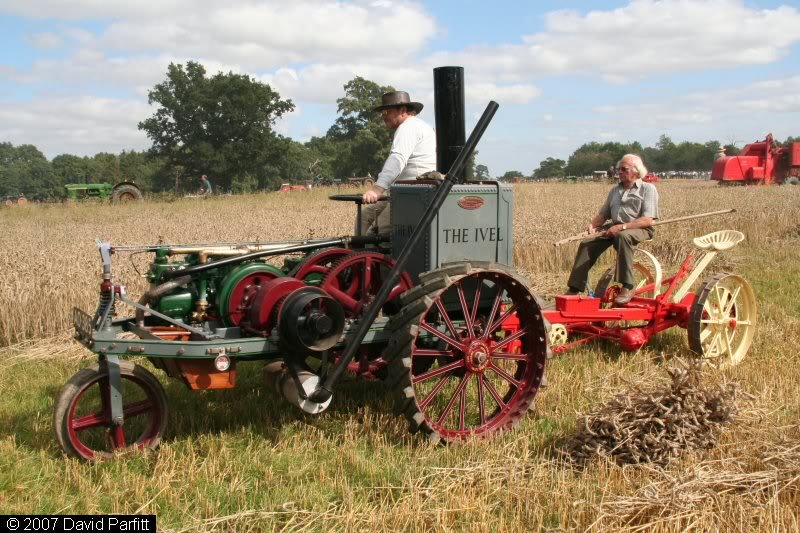 The Ivel Agricultural Motor in Shropshire in 2007
Pictures from http://rogergsmith.typepad.co.uk/publishing_days/2008/05/john-moffitt-cb.html
Quotations from Alex Kermotschuk, 'Historic Pageant', Tractor and Machinery, October 1999.